Financial Assistance
Consider new ways of funding your future.
Much like your approach to funding your college education, you may need a little help.
One of CI funding partners could be the right option for you.
A CI program is an investment in your future and we appreciate that everyone's financial situation is different. Compared with US and UK national averages, CI alumni get hired more quickly (that's in 2.5 months rather 7.5 months) and earn more (30% in their first year alone) straight out of school. 65% of graduates get hired straight out of our programs.
In your first year after a CI program, you can expect to see a positive return in your investment
in your first year of work that compounds every year after.
Fill out an initial application with a partner for more information on payment terms.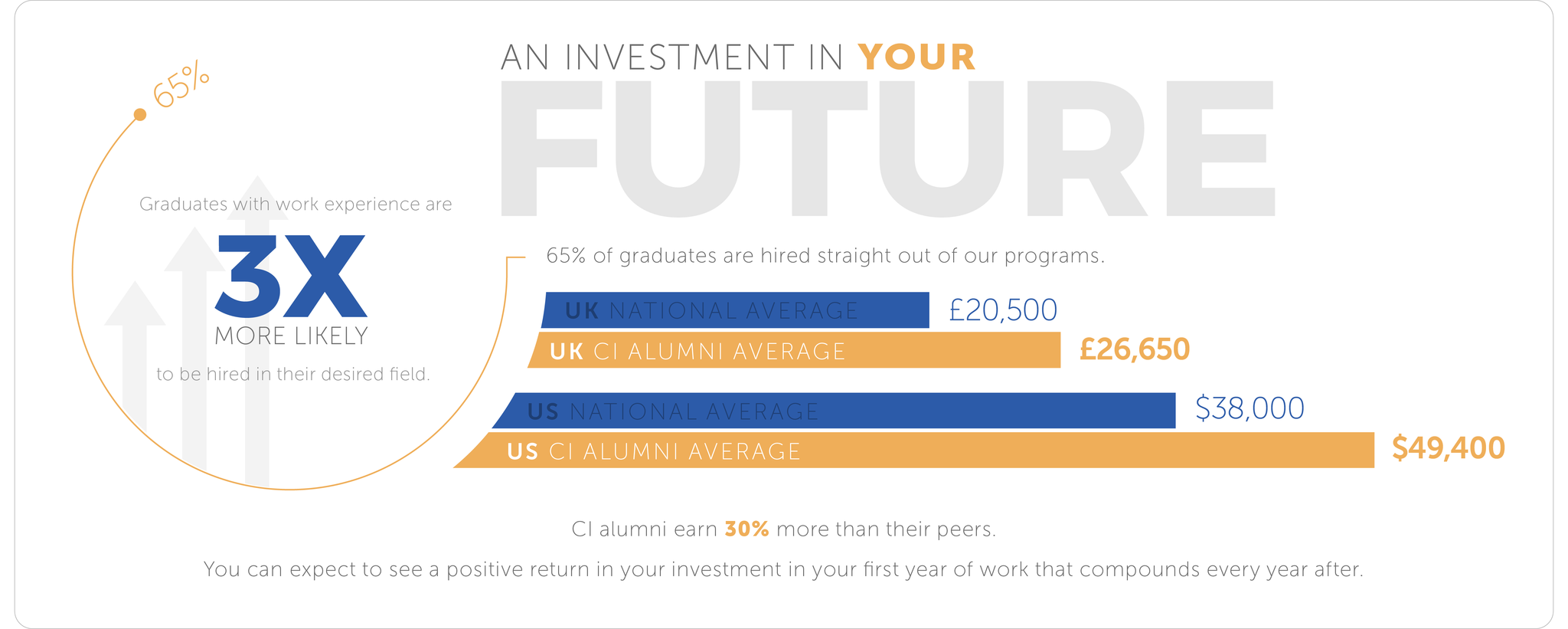 You can consider finance options before you enroll or at any stage after.
These are the basics
Please note that to be eligible for financing your CI program through one of our partner, you must receive an internship offer and accept a spot on your chosen program.
Qualifying applicants can borrow up to $25,000. Cover the costs of your Program Fee, Accommodation Package and time in your chosen city.
Take part in a CI program now and pay later with flexible deferred payment options, ranging from one to five-year plans.
Our partners offer low fixed rates.
For those with a bad or non-existent credit history, cosigner options are available.
US residents are eligible to apply for funding through Climb Credit or Pave. Please note that some partners may not be applicable to candidates living in certain US states.
UK and EU citizens residing in the UK are eligible to apply for Future Finance.
Explore our funding partners; Climb Credit, Pave and Future Finance. Live, work, study & travel abroad.
Don't compromise. Intern, learn, lead, grow & explore in a global city.
Seize today & secure tomorrow.
Don't compromise. The experience of a lifetime & the skills to last you a lifetime.
Explore & accelerate your career.
Don't compromise. Discover your potential & get on the path to realizing it.